The Man Behind A Simple Low-Cost Solution For Women Who Have Undergone Mastectomy: Dr. Pawan Mehrotra
Meet the Urban innovator, Dr. Pawan Mehrotra, who decided to forge his own path and create Aarna Biomedical Products, a social enterprise involved in development, manufacturing and distribution of high quality user-centric solution(s) for unmet/underserved healthcare needs. The first solution of this enterprise is Poorti – A post-mastectomy kit that help restore the confidence and dignity of breast cancer survivors.
1. Tell us something about yourself. How was your journey up to here?
Born and brought-up in a typical Delhi based Punjabi family with heavy emphasis on food and fun, my father always allowed us to do whatever we wanted with our life and just taught us a golden rule – clarity of purpose. I was a school topper throughout, then a University topper and finally discovered proteins involved in cancer progression in human beings in the United Kingdom. I returned to India in 2012 to join The Centre for Chemical Biology and Therapeutics at National Centre for Biological Sciences, Bengaluru, India – a joint initiative of the University of Cambridge, United Kingdom and the Department of Biotechnology, Government of India. My work revolved around discovering new therapeutic interventions for breast cancer patients.
As I visited the oncology OPDs, I noticed women wearing sarees and some of them had draped (pallu in hindi) it on either the right or the left side. This observation made me inquire an elderly couple about the reason for the same to understand the situation. Both the husband and wife with a white tika on their forehead were visibly tired of waiting for their turn. The wife did not talk at all and didn't even establish an eye contact whereas the husband described that his wife had undergone a right unilateral mastectomy and had come for a follow up. With a voice full of pain, he explained that his wife is far more disturbed because of the permanent VOID which has been created in her body than she was during the whole surgical and subsequent treatment process. He said that though his wife is very religious but it was god's will and that this has happened for the first time in their extended family. He concluded by making a powerful remark – "Why doesn't the hospital provide a solution before/post removal of breast(s) so that patients can get rid of this physical and emotional turmoil?" – this comment stayed with me and I developed a miraculous association with this issue of post-surgical rehabilitation of mastectomees. Subsequent conversations with breast cancer patients who had undergone mastectomy revealed the dire emotional & physical deprivation that haunts women after the loss of one or both breast(s) as part of the treatment and this reinforced my belief to do something about this unmet medical need.
Being a cancer biologist, I had no prior skills in the field of manufacturing. But, by the end of December 2013, I had decided to come up with an affordable and accessible solution for every breast cancer patient in India who unfortunately has to undergo mastectomy. I knew that I would have to resign from my lucrative job to come up with a permanent and sustainable solution for this unmet need. I resigned the day my daughter Aarna was born on 7 Feb 2014 and had no strategy or a team with me, except sheer compassion, but was very clear that the solution had to come from patients who have lived with this problem. I made the beneficiaries the innovator and took the role of a mere facilitator by following an approach of inclusive product co-development with the help from Prof. P.V.M. Rao of IIT Delhi who helped me learn the art of manufacturing and product development together with first year undergraduates of IIT-Delhi.
After four years of iterative research and development, Poorti was incubated by Social Alpha, an initiative of Tata Trusts in August 2017. The Sampoorti-Poorti system evolved with support from Biotechnology Industry Research Assistance Council (BIRAC) Department of Biotechnology – Government of India; Foundation for Innovation and Technology Transfer (FITT) – IIT Delhi; Translational Health Science and Technology Institute (THSTI); Tata Trusts – Foundation for Innovation and Social Entrepreneurship (FISE) – Social Alpha; Venture Center – National Chemical Laboratories; IIT-Kanpur; numerous hospitals and NGOs spread across India. This tremendous support from Government of India and philanthropic trusts led to the evolution of an indigenous patented manufacturing process and an in-house production plant.
The Sampoorti-Poorti system was pilot launched on 1 Jan 2018 after eighteen months of use of the product by patients without any reported issues. Between 1 Jan 2018 and 31 Mar 2019, the Sampoorti-Poorti system was deployed strategically to explore and evolve the best dissemination strategy for scaling up operations pan-India and beyond. Officials from the Government of India, the Bill and Melinda Gates Foundation and the Wellcome Trust launched the Sampoorti-Poorti System in March 2019 at the national level.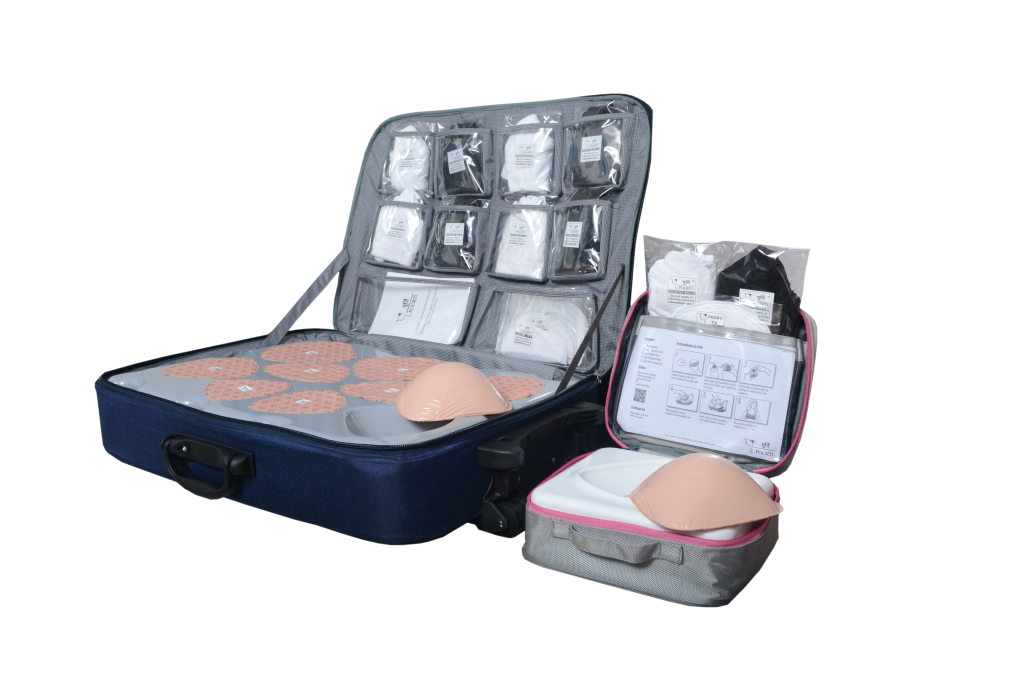 2. What was the basic concept behind the creation of "Poorti"?
Breast cancer is the top most common cancer affecting women all over the world with 16,71,000 new cases being reported per year globally and India harbours around 9 % of this disease burden with 1,50,000 new cases being added to the list of existing patients every year (Globocan, 2012). Affordable and holistic post-surgical rehabilitation of breast cancer patients after mastectomy (due to late detection) is an unmet need in many parts of the world.
Inclusive product co-development was utilized as the central theme to create Poorti wherein the aspirations of the patients around their needs after mastectomy for post-surgical prosthetic rehabilitation were categorically catalogued to develop prototypes which were then further refined to introduce improvisations leading to the present day holistic Poorti kit which attempts to restore the confidence, dignity and femininity of breast cancer patients. This approach led to both technical and anthropometric betterment than the available alternatives together with a one-minute product self-use video thereby dispensing the need of any external help. The kit comprises of a superlative design based light-weight pre-made silicone gel breast prosthesis (available in ten different sizes & two shapes as per the needs of the user), two pocketed brassieres (available in eight different sizes & five colours as per the needs of the user), two prosthesis covers, one prosthesis holder, information & usage manual & an outer waterproof kit which accommodates all the aforementioned components discreetly. CE certified silicone gel developed in Germany is used in our prosthesis. Additionally we cater to the recurring needs of pocketed bras & prosthesis covers. The finally developed post-mastectomy kit was named as Poorti based on feedback from the patients themselves. So in essence, the breast cancer patients are themselves the real innovators behind the genesis of Poorti.
3. Did you face any challenges in response to the basic idea of post mastectomy prosthetic kit? How did you cope up with them?
The response to my intent was skeptical, the initial silence I received from my family and in laws was definitely not of approval, except for the support from my father, but I had taken an irreversible decision. My friends and colleagues found my decision to be self-devastating specially because I was very well placed and had just become a father. Initially people used to consider me a fool and sometimes a fraud with some ulterior motive and so on. There was shortage of funds as I had modest savings and no fixed salary as before. These personal and financial challenges continued for the first year and then the technical challenges related to raw materials procurement, machine development, productions and user feedback trials and others cropped up.
I had a simple strategy to deal with these perennial issues – resilience and perseverance combined with the faith in what I am doing. The fact that this developed solution is going to impact breast cancer patients who unfortunately undergo breast(s) removal, was the trigger and continues to be the driving force which keeps me going till date.
4. What were your marketing strategies regarding the availability of "Poorti"?
For the deployment of Poorti, "Sampoorti" – An institution-centric product named as Sampoorti which is a mobile and concise suitcase comprising of prosthesis of different sizes and pocketed bras of different sizes with prosthesis covers, patient information forms and information brochures were developed. This allows for any hospital or NGO to provide a user experience to the patient in order to determine the prosthesis size and bra size which are most comfortable to the mastectomee. This also allows the patients to make a pre-informed choice before purchase. The larger vision behind Sampoorti is to allow hospitals to make the patients aware about breast prosthesis as a solution even before mastectomy is performed. Sampoorti has allowed us to make lots of women entrepreneurs who provide a trial to the patient either at their own home or at the home of the patients and earn an incentive in return. Currently we work together with dealers, NGOs, hospitals, physiotherapists and women entrepreneurs in more than 60 cities pan-India leading to thousands of satisfied Poorti users.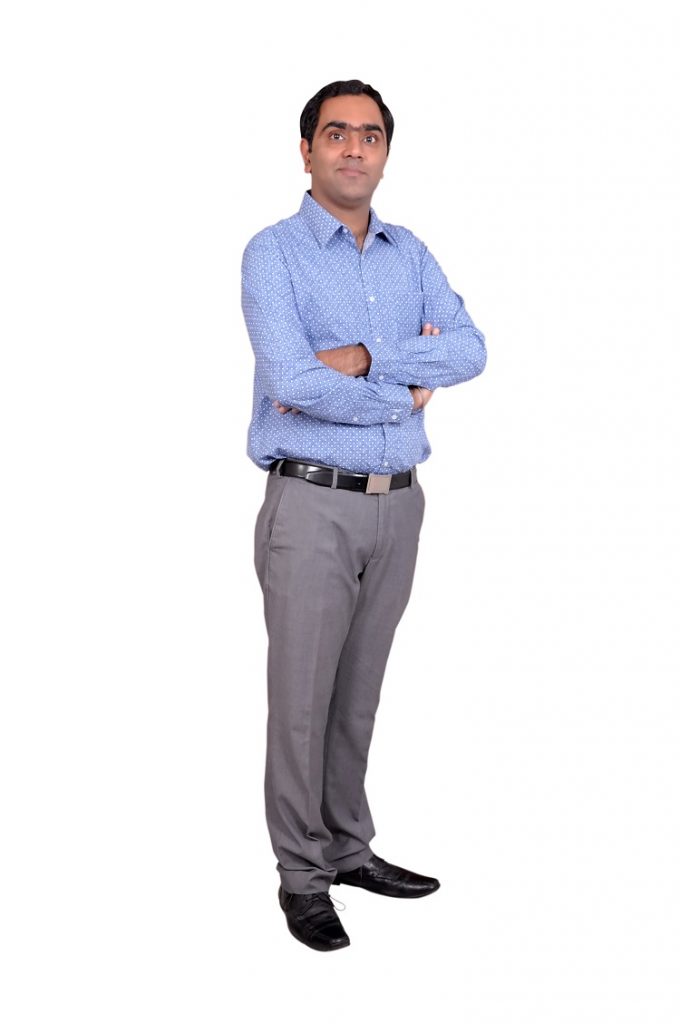 5. What are your future plans for the upcoming years in the field of Health and Technology?
More than 80% of what we use in the healthcare in India is import dependent and in most contexts it's an imposition as the solutions have not been pragmatically developed as per the requirements of the stakeholders and the needs of the beneficiaries specifically the social and latent healthcare needs which have still not been addressed or partially addressed. After a long exhilarating journey, Aarna Biomedical Products – a Social enterprise was incorporated on 17 March 2017 with three aims – a) To provide high quality user-centric biomedical products which are affordable and accessible for all; b) To create and provide opportunities for working towards a societal cause duly compensated with a reasonable salary and working hours; and c) To dispel the belief that social enterprises cannot be made financially sustainable. The healthcare technology based approaches primarily in the detection and diagnosis space across various specialties are going to grow exponentially and so would be the case with indigenous manufacturing of tangible products aimed at direct use by patients, doctors and institutions. We specifically aspire to create a mark in the development and dissemination of products in the oncology space.
6. How is your experience as a medical entrepreneur? Would you like to suggest something for the youth?
All entrepreneurial journeys are often too difficult, with lots of ambiguity and lonely. Development and design of a medical product is at times much harder than in other sectors as it requires longer gestation periods encompassing research, development, iteration, user trials and regulations. One should have conviction, invincible perseverance and the humility to accept criticism and constructively grow. In my opinion, there should be a purpose behind any endeavor and this purpose cannot be only making profits. A good intent is more than enough to initiate any endevaour and the rest attributes follow. Financial sustainability through revenues (and not only through investments) of the enterprise for its scale-up and diversification is very important. Ideation should be done with the intent to offer a user-centric, inclusive and affordable solution. But before ideating the product, an important component which is missed out quite often is to gauge whether the developed solution has a market or not and if so what would should be the tentative cost to the users and who would be the stakeholders in the deployment process. Generally the commercial part is conceived after a product is developed and this is what leads to huge failures and disappointments. The gist is pragmatic strategic thinking for commercialization first and not only emotional desire to develop a digital or physical solution. The Earth has already become a land of apps and careful weighing should be done before entering into this space.
7. Tell us about your larger than life experience related to "Poorti".
I always thank the almighty who chose me to be put on the path to create a solution for post-surgical prosthetic rehabilitation of mastectomees and my father who supported my vision in Feb 2014. This journey of more than 7 years has led to many heartwarming experiences and blessings. I vividly remember how a woman came to me after I delivered a lecture at AIIMS-Delhi to thank me as for her Poorti was more than a prosthetic solution. During her whole treatment process and afterwards, she kept a distance from her only child – an adolescent daughter as she didn't want her to know about her mother's mastectomy. After wearing Poorti, she hugged her daughter and it fulfilled the mother's aspirations. This incident makes me feel very satisfied. Lots of elderly women bless us and so is the case with burn victims who lose their breast(s) and thank us for the simple and complete solution. I derive huge satisfaction when women call me from different parts of India and beyond to inquire about Poorti and do not mind discussing their needs and sharing their current brassiere size, for instance. Similarly I feel great when husbands and family members thank us for the various articles we have composed and put on our website for larger benefit of the community. In October, this year, a fifteen year old girl whose mother uses Poorti called me to inquire about an aspect related to the durability of the product and while ending the call mentioned that like PAD-MAN, I am a BREAST-MAN in the making and that too on the Indian soil, as very rarely, one finds a man who works towards solutions for women's needs.