Umar Aur Bhoj Badhta Ja Raha Hai, MPSC-Aspirant Writes In His Suicide Note
Swapnil Lonkar, a citizen of the Hadapsar area of Pune, died by suicide in his home on Wednesday. Swapnil was preparing for the Maharashtra Public Service Commission (MPSC) examinations. The 24-year-old had cleared the prelims exam but didn't get a job yet as the process was postponed because of the ongoing pandemic.
According to the information given by senior police officials from Hadapsar, the boy's father owns a printing press in the Shaniwar Peth area of Pune. Lonkar's parents travel every day for work. His sister was also not at home and too went for some work the day Swapnil took this major decision of ending his life.
When Lonkar's sister returned home from work in the afternoon, she couldn't find her brother anywhere. She went to his room and found his body. She immediately informed the parents and called the police and Lonkar was rushed to the hospital. But on the arrival at the hospital, Lonkar was declared dead.           
WHAT DID HE WRITE IN HIS SUICIDE NOTE?
Lonkar mentioned his reasons for suicide in the note. He wrote in the note, "MPSC, sab Maya jaal hai. Iske jhaanse mei na pado. Aane waale dino mei umr aur bojh badhta jaa raha hi." (MPSC is an illusion. Do not fall for it. As I get older, the burden is increasing.)
He wrote in Hindi, "My confidence is fading and self-growth rising. It has been two years since I passed the [prelims] exam. A mountain-sized debt has accumulated which cannot be erased by doing a private job. If there was no Covid, all the exams would have happened on time. Life would have been different."
He also wrote, "I have had negative thoughts for some time now but I was holding on to the hope that something good would happen. It doesn't seem likely now. No one is responsible for my suicide, it is my own decision. Forgive me."           
Suicide cases are not new to India. Since the Pandemic broke out, there have been numerous cases of suicides coming up. Some people are ending their lives due to the loss of jobs, some due to family pressures, and some simply due to their inability to clear exams.
According to a report published by WHO two weeks ago, Southeast Asia accounts for around 10.2 % of suicides in the World, and out of all the Southeast Asian Nations, India is on top. The global outbreak of coronavirus in 2020 has increased mental stress but according to the report the crisis was in place since 2019.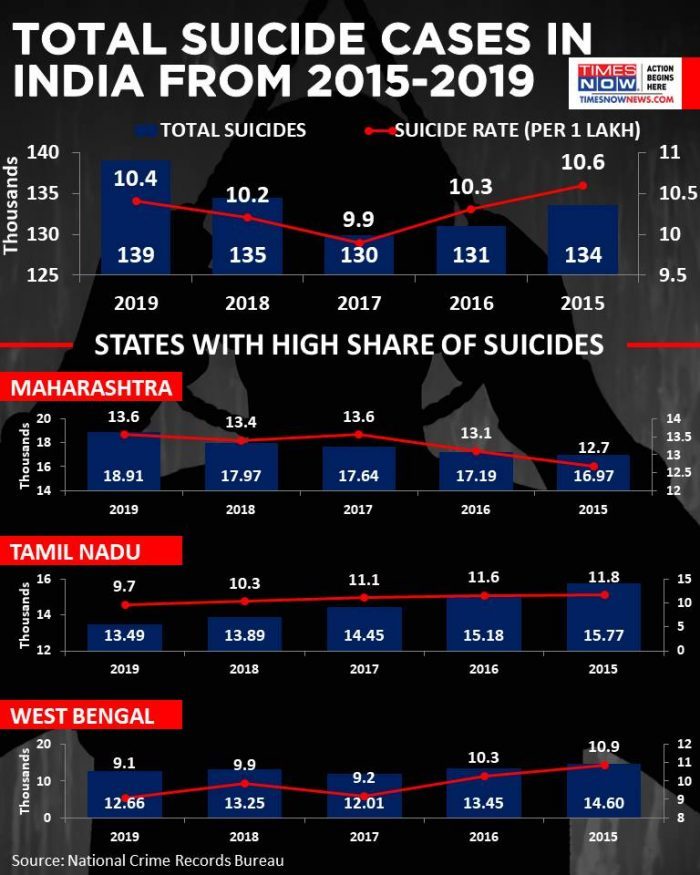 Sustainable Development Goals include the prevention of suicides by treating and preventing mental health disorders. It targets to achieve a valuable reduction in cases of suicide by 2030. We also hope to see a decrease in suicide cases in India and the entire World through Governmental measures like setting up helpline numbers for those in need of moral support, promoting awareness regarding depression, etc.