Vedix Festive Bhringadi Hair Kit – Gift Box: Time For Beautiful Hair With Bhringadi!
A Limited Edition Gift Box from Vedix with 4 Bhringraj Infused, Curated Products For Naturally Healthy & Strong Hair
Vedix is an Ayurveda based beauty brand that provides customized Hair, Skin care, and Wellness regimes. The brand's unique proposition is to curate products to suit each individual's body characteristics, as identified by their doshas.
The core of Vedix is the Tridosha theory of Ayurveda. Every person is born with their unique set of Doshas (Vata, Pitta and Kapha) that make their Prakuriti, and true Ayurvedic solutions are customized to address each individual's uniqueness. Vedix seeks to achieve this by understanding one's Prakuriti and skin/hair/body concerns through a questionnaire, and then leverage machine learning and artificial intelligence-driven technology to craft individualized products.
The concept of customization is very new to the Indian lifestyle and wellness landscape, and Vedix endeavors to break the notion of one size fits all, as well as the vicious cycle of trial and error that leads to unsatisfactory results. Vedix is the first and only one working at providing customized Ayurvedic solutions in this space.
Over the last few years, Vedix has created a dominant position in the Indian D2C hair care market with their range of customized Ayurvedic oils, serums and shampoos. It is also India's first skincare brand to launch 100% edible grade non foaming cleanser made with high quality ingredients. Vedix aspires to evolve the brand that continues to innovate in the area of modern Ayurveda. The Company has launched a range of products in new categories and are available on Amazon India and Purplle.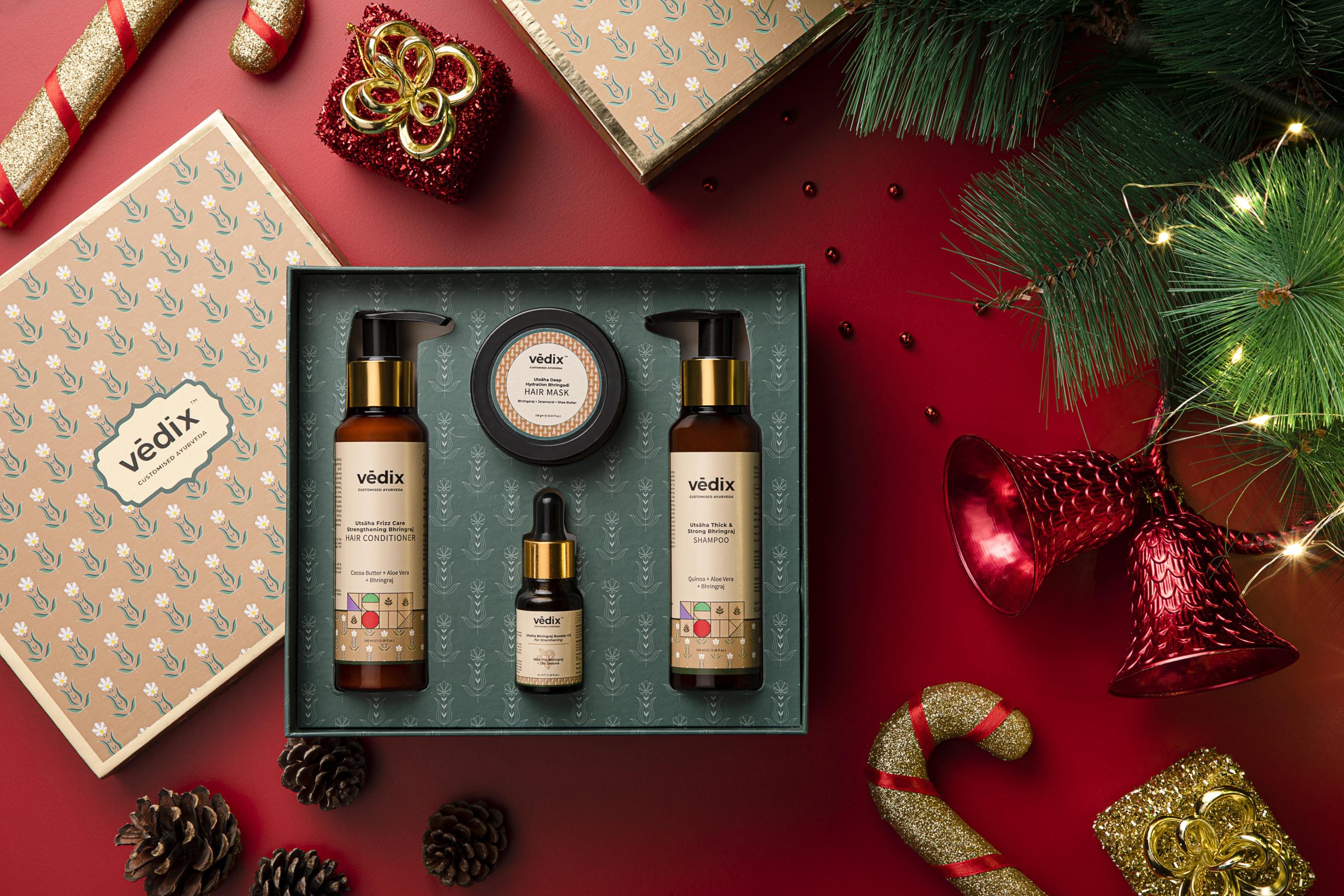 In keeping with the New Year festivities, Vedix has designed and conceptualized a beautiful, limited edition gift box – Vedix Festive Bhringadi Hair Kit. The limited-Edition Gift Box comes with 4 Bhringraj infused, curated products for naturally healthy & strong hair. Bhringraj promotes healthy hair growth and lustre. The cooling properties of Bhringraj help balance scalp and hair conditions.
Jatin Gujrati, Business Head – Vedix, says, "As we bid adieu to this year and look forward to the New Year, as a brand we want to cheer up our audience. Our special offerings and deals are sure to make customers smile with joy. This year while you order plum cakes, chocolates and cookies, pack a Vedix beauty gift box along. Our boxes are filled with the goodness of Ayurveda that will offer impeccable beauty solutions for one and all."