Kangana Ranaut Applauds The 'Movie Mafia' & Says, "Never Expected Them To Do Something Good"
Recently, Kangana Ranaut tweeted a cryptic message praising the 'movie mafia' and applauding them for completing little efforts essential to the flicks' theatrical release.
Ranaut has lately lauded the "movie mafia" in Bollywood. That is, in fact, correct. The movie mafia was praised by Bollywood's Queen for taking little effort critical for releasing pictures in theatres. Earlier this week, Kangana tweeted, "Happy to hear theatres are being revitalized in the South cinema industry with record-breaking receipts. There are rumblings of progress across the Hindi belt as well.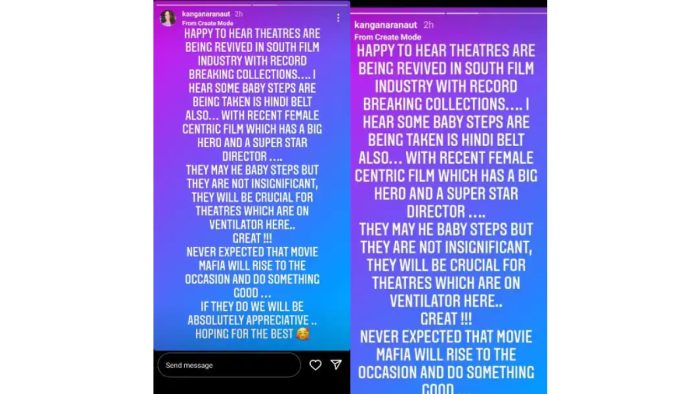 The latest female-centric picture starring a huge celebrity and directed by a superstar. Even though they are just baby milestones, they're nevertheless noteworthy. Theaters in this location that use ventilators will need them desperately. Great." As she said, "Never anticipated Hollywood mafia to rise to the occasion and accomplish something wonderful." If they do, we'd be grateful for it. "I'm wishing for the best,"
Earlier, Kangana had labeled Alia Bhatt, the star of Gangubai Kathiawadi, a "bimbo." Kangana even went so far as to say that the casting was the film's worst error. When referring to Alia Bhatt and Mahesh Bhatt as a "movie mafia," she made a subtle jab at the actress.
For a papa (movie mafia daddy) ki pari (who prefers to maintain a British passport) who wants to demonstrate that romcom bimbo can act, 200 crores will be burnt to ashes at the box office on Friday. The film's major flaw is it's miscasting…yeh nahi sudhrenge (these people will never change)… tiny surprise audiences flock to South, and Hollywood flicks.
Kangana was last seen in Thalaivii. Dhaakad and Tejas are among her upcoming movies. Lock Upp, a new MX Player and Alt Balaji-streaming reality program, premieres on February 27 and will be hosted by her.