Kangana Ranaut Calls Diljit Dosanjh 'Karan Johar Ke Paaltu', Gets Into War Of Words Over Farmers' Protest
Kangana Ranaut is currently receiving a lot of backlash due to her tweet on an old woman at the farmers' protest. Kangana on the Twitter handle had shared a picture of an old woman saying that she is the same woman who was also present at the protest in Shaheen Bagh in Delhi. Kangana also stated that she's available for 100 rupees and had also been featured in Times Magazine. The actress has deleted the tweet later after she started receiving a lot of hate from netizens. Many celebrities also slammed the actress for misidentifying an old respected woman. On Thursday morning Diljit Dosanjh took to this Twitter handle and shared a video of Mahinder Kaur's Interview (old woman) and slammed Kangana for degrading an old woman.
Kangana being Kangana who can't keep mum whether it's her fault or not. Responding to Diljit's tweet, the actress called him Karan Johar's pet. She wrote, "Ooo Karan johar ke paltu, jo dadi Saheen Baag mein apni citizenship keliye protest kar rahi thi wohi Bilkis Bano dadi ji Farmers ke MSP ke liye bhi protest karti hue dikhi. Mahinder Kaur ji ko toh main janti bhi nahin. Kya drama chalaya hai tum logon ne? Stop this right now."
Kangana accused Diljit of sucking up to people for work and drew comparisons between him and her. She stated that she is willing to apologise if anybody proves her wrong. Her response read "Oh chamche chal, tu jinki chat chat ke kaam leta hai, main unki roz bajati hoon,jayada mat uchal,main Kangana Ranaut hoon tere jaisi chamchi nahin jo jhoot boloon,maine sirf aur sirf Shaheen Baag wali protestor pe comment kiya tha, if anyone can prove otherwise I will apologise."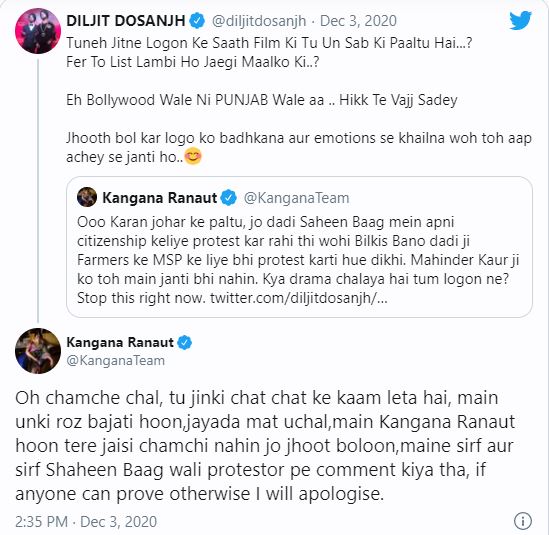 Diljit did not keep mum either and counter attacked saying, "Tuneh Jitne Logon Ke Saath Film Ki Tu Un Sab Ki Paaltu Hai…? Fer To List Lambi Ho Jaegi Maalko Ki..? Eh Bollywood Wale Ni PUNJAB Wale aa .. Hikk Te Vajj Sadey Jhooth bol kar logo ko badhkana aur emotions se khailna woh toh aap achey se janti ho." In his next tweet, Diljit challenged Kangana to get into an argument with him.