Apart from films, Bollywood actress Poonam Pandey always remains in the headlines for her bold and hot style. Fans also like her bold style a lot. Now, Poonam Pandey is in discussion for showing her first hot and bold style. Poonam Pandey was spotted in Mumbai on Wednesday.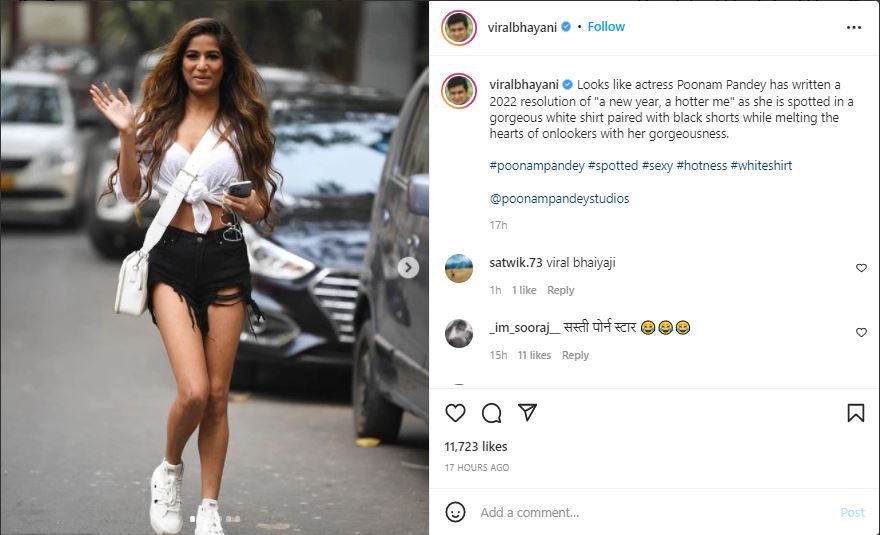 Many pictures of Poonam Pandey have been shared by celebrity photographer Viral Bhiyani on his official Instagram account. In these pictures, she could be seen wearing a white shirt and black Tron shorts. With this, Poonam Pandey wore white kalak shoes.
On one hand, the fans of Poonam Pandey liked her first bold picture of the year 2022. At the same time, many social media users trolled the actress. A user named vimlabansal00 commented on Poonam Pandey's pictures and wrote, "Are there still poor people in India?" sir.aaryan wrote in his comment, "looks worse than beggar". sonusaini4345 wrote in his comment, "Where has this poor come from now?" A user named guptadeepak001 wrote on Poonam Pandey's pictures, "Sasti Miyan Khalifa". Apart from these, many other social media users commented and trolled Poonam Pandey for her pictures.
For your information, let us tell you that earlier Poonam Pandey was in headlines due to her husband Sam Bombay. Last year her husband Sam Bombay was arrested by the police.
Poonam Pandey had accused Sam Bombay of assault. Reportedly, it's said that Sam Bombay had beaten Poonam so much that she had to be hospitalized. Talking about Poonam Pandey's films, she made her Bollywood debut with the film Nasha. After this she worked in Tamil and Telugu films.