Review Ayurmeans Products
Nripendra Pathak, a digital wizard, quit his plush corporate job and endeavored to offer an organic, pure, Ayurveda based sustainable and healthy lifestyle to the masses at large. This vision led him and his partner, Wilbur Miranda, to create 'Ayurmeans'. We at Madaboutwellness reviewed and tested Ayurmeans products. Ayurmeans is an e-commerce platform that sells only natural, organic, Ayurveda concept-based products sourced from local farmers, manufacturers and producers.
Co-Founder Speaks– Ayurmeans products mean no colours, no chemicals, mixing particles or inhumane practices of production. Shares Co-founder Nripendra Pathak, "'Ayur' means 'life'. Every day we are exposed to the harmful chemicals present in various food items, substances, cosmetics and whatnot. We have been sourcing naturally produced skin care products, face care products, hair care products, Essential and Aroma oils, herbs, spices, Instant Food and various other products to provide a better life with organic and naturally produced products."
Ayurmeans Certifications– The brand makes a lot of investment to gather information and research on best practices for producing quality products that are naturally based. The products on Ayurmeans e-commerce platform are WHO-GMP Certified | USOCA Certified | USDA Approved. A conscious effort is madeto keep prices under Rs. 3499. Ayurmeans products have only steam distilled essential oils and herbs. The range of diffusers is exceptional and sourced from China, Japan and Malaysia.
Product Range–
Natural Deodorant,
Age Delay, Toners, Cleansers, Beard Oil, Hair Care, Organic Creams, Lip Care, Face Wash and Cleanser, Eye Care, Organic Scrubs, Face Packs, Essential Oils, Diffusers-Aromatherapy, Aroma Oils, Face and Body Care, Natural Spices that includes both Therapeutic Grade & Kitchen ones, Instant Food, Tea, Coffee, Haircare, Face Care.
AYURMEANS SOAP – After using this soap, we researched on how cold pressed and organic soaps are made. These  soaps are Antimicrobial, Antioxidant and Ayurvedic. They are made with cold-pressed oils, essential oils of herbs and flowers, enriched with gangaajal known for its self-purification properties the world over. It is 100% vegetarian. Use it on the face and body to treat acne, spot, blemishes and signs of aging. There are no added fragrances, no added colours,and it is 100% free from chemicals and preservatives. It works as a moisturizing agent.
Ingredients- All soaps are made with saponified oils- Lavender oil, Coconut oil, Palm oil, Rice Bran Oil, Castor oil, Karanja oil, Sunflower oil, Kokum Butter, Ylang Ylang essential oil & Gangaajal. No added fragrances, No added colours, 100% free from chemicals and preservatives.
Price- 99 INR
AYURMEANS NATURAL BODY DEODRANT
This is a permanent item in my wardrobe now. I realize that I have wasted a lot of money my entire life on brands that have chemical based deodorantsdesigned to control body odour and moisture and while doing so they end up harming the skin as well. They disturb the ph balance of the skin and end up making the skin dry and itchy. Ayurmeans Deodorant is infused with essential oils and other natural ingredients to control sweat and treat unpleasant body odour. It is the safest choice for the skin being natural. It tones the skin and smoothens the texture of the underarms. This synthetic free, all natural plant based body spray, with light aroma, keeps you feeling fresh and clean,and does not disturb the natural perspiration process.
Ingredients– Ayurmeans Natural Deodorant has leafy notes of therapeutic lavender, patchouli, rose water, olive oil, geranium and other essential oils,all encapsulated in an air-like fine mist that delicately scent the underarms and leave no white streaks.
Price- 999 INR
AYURMEANS FACE OIL
Ayurmeans face oil is a unique blend ofseed oils and essential oils. This oil can be used to massage the facial skin, giving skin its vital food. It stimulates cell regeneration, slows down the aging process, repairs pigmentation, de-tans and lightens the skin, reduces fine lines, wrinkles and tightens the skin.
It also works as a primer before make up and gives a dewy glow and finish on the face. Ayurmeans face oil is a unique combination of light non-greasy seed oils with essential oils. It can be mixed with your foundation and applied too. Consistent applicationproduces new cells that heal the skin.It has hydrating properties, triggers the anti-aging routine andhas anti-bacterial and healing properties.
Ingredients- Jojoba oil, rosehip oil, grape seed oil, bachuchi oil, lavender oil, mandarin orange oil, peppermint oil and rosemary oil.
Price- 699 INR
AYURMEANS ROSE WATER
We tested this Rose water by applying on an infected eye. Using the drops 2 to 3 times a day relieved burning and dryness often caused with prolonged exposure to the TV and laptop screen. This rose water tackleseye fatigue, reduces redness and controls inflammation.
It has pure steam distilled water of rose petals and buds. It is 100% free from chemicals and preservatives, prepared by using ancient Ayurvedic methods.Ayurmeans Rose water is ultra-hydrating, works as a refreshing mist, toner andbody coolant in summer.
A powerful antioxidant, when consumed, it relieves internal burning as in gastritis, sore throat and laryngitis, to provide relief from acid reflux. It also works as a flavouring agent in place of synthetic essence to flavour desserts, shakes and salads.Drink 1 to 2 tablespoons every morning on an empty stomach to keep the body cool. You can add it to your drinking water to add taste and nutrition. The aroma is soothing and calming. A strong anti-depressant, it improves the mood, induces sleep and helps relieve headaches.
Ingredients– This special steam-distilled hydrosol of Rose is made from fresh rose petals. It is a unique skin face toner thatworks on all skin types and skin tones.
Price-  699 INR
AYURMEANS MAKEUP REMOVER
This Make up Remover application left me wondering if I am using a makeup remover or a nourishing face oil. It runs on the face like a feather. Apply it with cotton on the face in a circular motion, wait for 1 to 2 minutes and wipe gently with dry cotton and then wash. This makeup remover oil provides quick and easy removal of all types of makeup, dust, pollution and leaves the skin smooth and supple. It is ultra-hydrating for damaged skin. It is packed using 100% natural processes. No extra chemicals or colours are used.
Ingredients– Ayurmeans makeup remover oil is enriched with jojoba oil, watermelon seed oil, kalonji oil, grape seed oil and essential oils of lavender and frankincense.
Price- 699 INR
Price – 300 to 500 INR per 10ml. 
Reach us at: www.aminu.life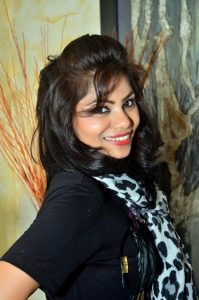 By Khushboo Jain
Wellness Advocate, Founder of Madaboutwellness
@khushboojainwellness (Instgram)    khushboojainwellness (Facebook)  Read more…