'Stop Giving Gyaan To Hindus', Netizens Ask Virat Kohli As He Offers 'Tips On Diwali'
Social media is a dynamic platform where news and trends change every second. On such a platform, huge names gain praise for their good work but at the same time receive outrage if gone off track. Nobody can figure out when and what will make netizens angry about celebrities' moves. Cricketer Virat Kohli was recently on the receiving end of outrage on netizens after he shared some Diwali tips on Twitter.
Kohli teamed up with Pinterest and shared a video on his official Twitter account about the upcoming festival of Diwali. In the video, Kohli could be heard saying that this year has been difficult for people across the globe especially for Indians. Hence, we are all looking forward to Diwali. As Diwali comes closer, he will share tips on how to enjoy a meaningful Diwali with family and friends.
Sharing the video, Kohli wrote, "Over the next few weeks, I'll be sharing a series of my personal tips for celebrating a meaningful Diwali with loved ones and family. Stay tuned by following my Pinterest profile 'viratkohli' – link in bio."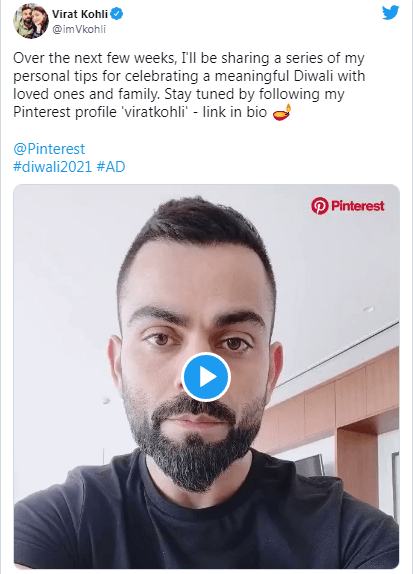 This didn't go well with a section of Hindus who started questioning why Kohli should share tips on a Hindu festival only. After this, the talented batsman got trolled left and right by the social media users. Many netizens began raising communal questions asking why Kohli didn't share tips on Eid. They hold an opinion that they do not need tips from anyone about how to celebrate Diwali. Some also said that Virat should focus more on his batting which is dwindling day by day. Some netizens made personal attacks on Kohli saying that the Indian skipper was promoting his wife Anushka's 'no cracker' policy during Diwali but he does not say anything when crackers are burst during IPL celebrations, New Year, and other events.
Have a look at what Twitterati has to say on Kohli's video:








After receiving backlash and getting brutally trolled, Kohli removed 'Diwali tips' link from his Twitter and Instagram profiles.