This 4-Crore Bull Painting In Amitabh Bachchan's Jalsa Has Astrological Significance- Know What It Is?
Veteran actor Amitabh Bachchan is famous for sharing then and now pictures on social media. His pictures go viral within a few moments of their upload. This Diwali, Big B shared a family portrait on his Instagram handle. The photo featured Big B and Jaya Bachchan posing with their kids, Abhishek Bachchan and Shweta Bachchan Nanda. The family posed in a similar way when Shweta and Abhishek were kids.
Amitabh while sharing the picture on his social media handles captioned the post as, "Some picture sitting positioning never change, even though time." Many of the megastar's admirers and well-wishers called them 'family goals' and showered love on the gorgeous Bachchan family. But what caught the attention of all the viewers was the painting featured in the family photo. Many netizens were curious to know about the painting of a bull hanging in their living room in the backdrop. Some made memes on the picture, others were quite interested to know the cost and significance of the painting in the background.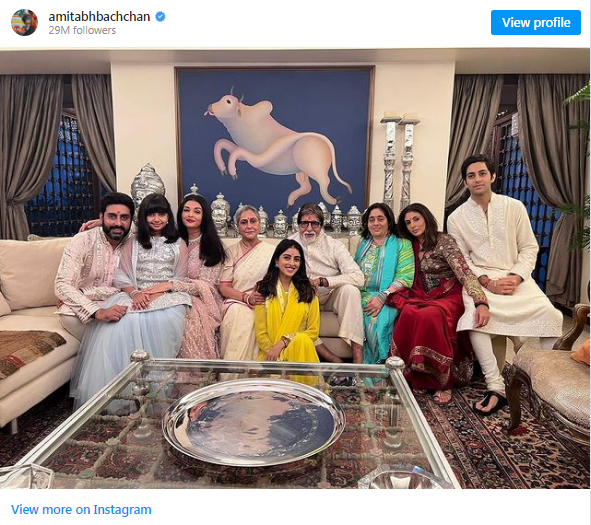 Some even made fun of the painting by linking it to Majnu Bhai's funny paintings from the film 'Welcome'.
As per the report by a leading daily, the bull painting in the background costs INR 4 crore. It is made by Manjit Bawa, who was an artist from Dhuri, Punjab. He reportedly drew inspiration from Indian mythology and Sufi philosophy for his work. Mainly, his subject involved figures of deities like Lord Shiva, Goddess Kali, animals, nature among others.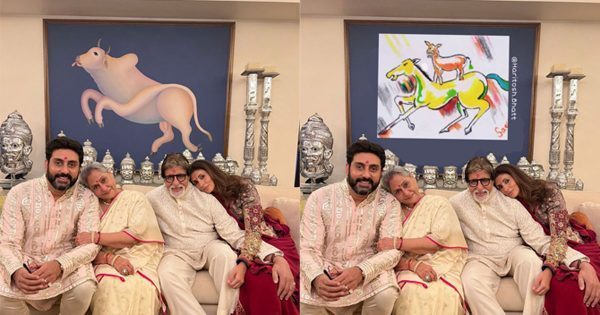 According to the reports, the artist had learned to play the flute, and since he used flute motifs in his artwork, his work got sold all across the world in popular auctions. The bull painting at Big B's Jalsa symbolizes power, dominance, speed, optimism. Placing it at home office or house helps to bring the Bull Run in one's financial situation.