Harnaaz Sandhu's gown was a special tribute to Lara Dutta and Sushmita Sen at the Miss Universe 2022 final event in New Orleans, USA.
Harnaaz's final ramp walk as Miss Universe preceded the announcement of the evening's winner. Her emotions were perceptible. Not only that, but Ms Sandhu made her final ramp even more memorable by paying tribute to Sushmita and Lara, the only two Indian Miss Universe pageant winners.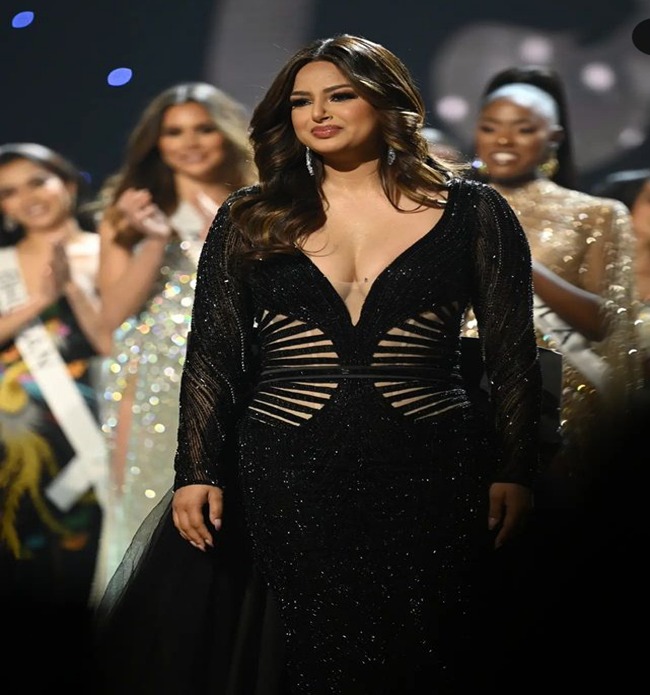 Harnaaz Sandhu Final Walk At Miss Universe 2022
Harnaaz Kaur Sandhu made her final walk as Miss Universe on Sunday, before handing over the crown to Miss USA R'Bonney Gabriel. Harnaaz won the pageant, bringing the crown back to India 21 years after Lara Dutta did in 2000. Her final walk at the 71st Miss Universe pageant was in a gown inspired by her successors, former Miss Universes Lara Dutta and Sushmita Sen.
Harnaaz can be seen entering the stage with grace and confidence in a magnificent black gown in one of the videos released on Miss Universe's official Twitter feed.
Checkout Video Below
Hold back tears as @HarnaazKaur takes the stage one last time as Miss Universe! #MISSUNIVERSE pic.twitter.com/L0PrH0rzYw

— Miss Universe (@MissUniverse) January 15, 2023
Outfit Summary
Sandhu walked the runway in a layered black sequin gown with a plunging front and a big bow at the back and  Both sides of her dress were adorned with the faces of Sushmita and Lara's crowning moments.
The winning moment of Sushmita Sen from the 1994 beauty pageant can be seen printed on her gown as she walked. On the backside of her gown, a smiling picture of Sushmita Sen with the Miss Universe crown can be seen. Lara Dutta's winning moment is printed on the opposite side of the gown.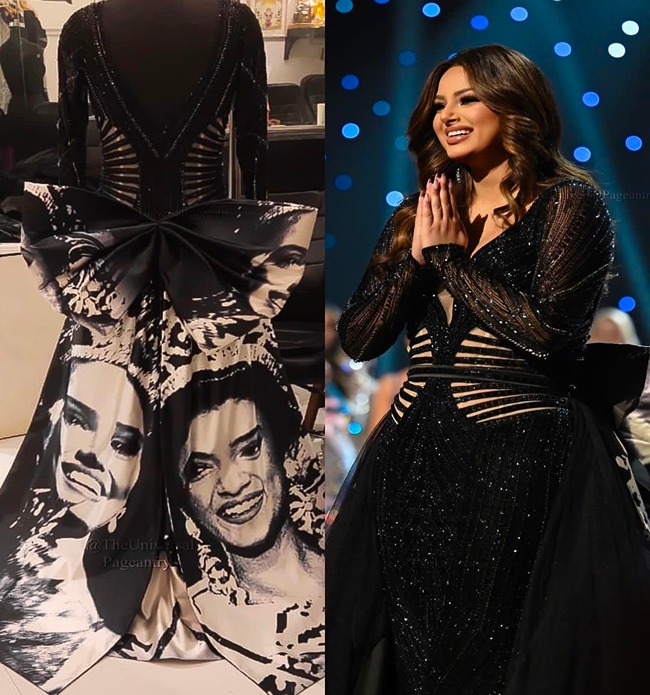 Her gown was designed by Saisha Shinde, formerly Swapnil Shinde, who shared details about her outfit on Instagram. The gown was designed with the "three stars in the Universe from India" in mind, according to the designer. The voluminous gown also featured a backless design and an ornate bow. It was covered in sequin embellishments on the front.
The audience and all of the contestants greeted Miss Universe Sandhu on stage with thunderous applause. Sandhu could not hold back her tears as she walked with all her confidence and a heavy heart.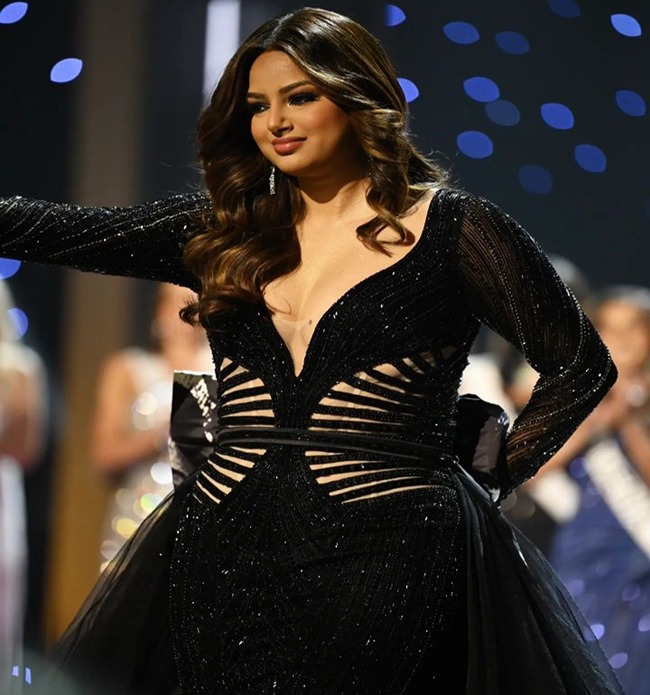 Timeline of Indian Beauty Pageant Winners
Harnaaz Kaur Sandhu brought honour to the country after being crowned Miss Universe in 2021. In addition to being crowned the 70th Miss Universe, she is the third Indian to bring the title back to India, followed by Sushmita Sen in 1994 and Lara Dutta in 2000, who won the prestigious position respectively.
On Sunday, the United States' R'Bonney Gabriel was crowned Miss Universe 2022. Gabriel, a model and fashion designer, created history last year when she became the very first Filipino American to be crowned Miss USA.
Divita Rai of India went to the top 16, but she was unable to go any further.