Kangana Ranaut is known for creating controversies every time she takes to her social media handles to voice her opinions. However, this time, she decided to speak on something more important to society. She shared the importance of a girl child through her latest Instagram post. She shared her family believed that the second girl child is a disappointment and she was the second one after her sister Rangoli Chandel. However, she wasn't minded in the manner as they thought that she was beautiful and it wouldn't be hard to marry her off.
A while back, Kangana Ranaut took to her Instagram and shared a childhood picture of her. In the picture, the actress is seen in white salwar suit, with teal bandhani dupatta. Kangana captioned the picture, "My birthday month,growing up grannies told stories that after a sister another girl child birth disappointed everyone but they didn't mind much cos I was very beautiful and marrying me off won't be a big burden,they all laughed at anecdotes but it pierced my heart every-time." But the actress feels there is more than just getting girls married, such as studies, research and more.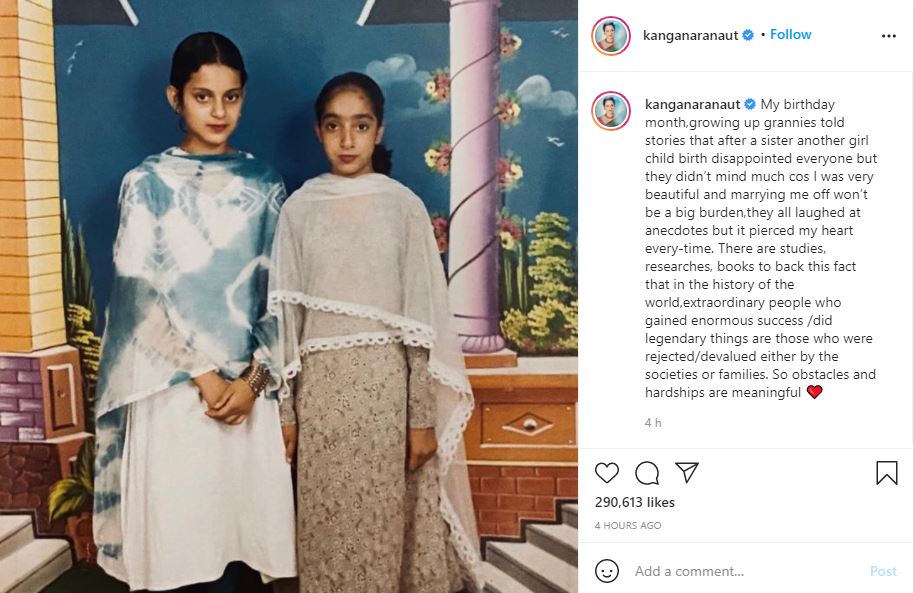 "There are studies, researches, books to back this fact that in the history of the world,extraordinary people who gained enormous success /did legendary things are those who were rejected/devalued either by the societies or families. So obstacles and hardships are meaningful," wrote Kangana Ranaut.